Find the root cause of hormone & gut dysfunction, activate your metabolism, and take charge of your health for good!
Functional Labs | Sustainable Nutrition | Movement | Mindset
Do you want to feel amazing everyday?
Do you desire to have boundless energy to enjoy all the playful moments with your kids?

Do you want to feel more productive and accomplished at work?

Do you want to feel abundantly happy and truly healthy in both your body & your mind?
I provide sustainable solutions by finding the root cause of your symptoms. Using functional lab testing and creating a personalized plan and protocol to address your symptoms in a lasting way. Rest assured, you will feel fully supported as I guide you on a journey of healing.
LEARN MORE ABOUT MY SERVICES
Are you tired of feeling unseen & unheard in the traditional medical field?
Tell me if this sounds familiar...
You're sick of feeling exhausted and unwell on a daily basis.
You're over the symptoms of fatigue, PMS, irregular or painful periods, irritability, moodiness, headaches, chronic pain, poor sleep, skin problems, anxiety, etc. 
You're unable to lose weight despite dieting & exercising.
If you're ready for sustainable changes and permanent solutions without automatically being pushed to prescription medications, you've come to the right place!
Who I help...
My clients are busy women looking to transform their health in a sustainable way.   
Women who want to be the best version of themselves in order to serve their families and excel in the workplace. Women who want to feel empowered and take their health into their own hands, while collaborating with a professional.



I treat you as a whole person: mind, body, and spirit, in order to help you find solutions.
BOOK A FREE CONSULTATION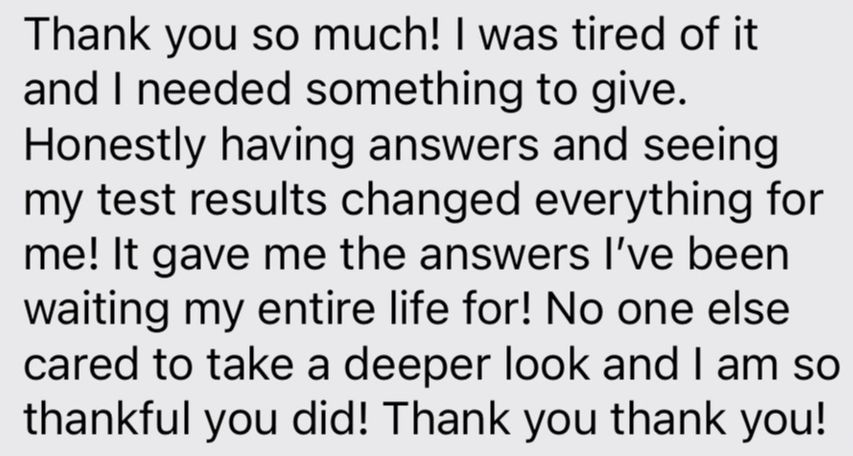 If you're struggling with hormone and gut imbalance, Lindsey is here to help you!
Medicine is not one-size-fits-all.
We are all bio-individual. Lindsey will provide personalized functional lab testing, a custom plan, and supplement protocol to yield results. With Lindsey's all-inclusive program, you'll get frequent hands on communication, direction, and unlimited guidance.
LEARN MORE ABOUT MY SERVICES!
Join our community of women all on a path to wellness.
Find commonalities with others experiencing the same symptoms. Find the motivation and support to make sustainable changes in your health and finally feel your best.
GET ON THE LIST!
Stay Connected
Get resources, motivation, and guided activities delivered to your inbox that will surely get you on the path to total wellness.
We won't send spam. Unsubscribe at any time.